Foundation

The CCMHA Foundation was formed in 2002, by the Christian County Mental Health Association to assist in raising money to support and improve programs, services and facilities for people with disabilities, residing in Christian County.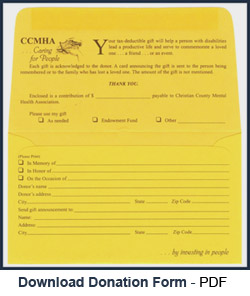 Board of Directors

Cindy Duez
Jim Hahn
Chuck Banning
Bob Broverman
John Ferry, D.D.S.
Brenda Patrick
Brent DeMichael


If you would like to submit a tax-deductible gift, click on the envelope above, complete the form and mail, along with your contribution, to:
Christian County Mental Health Association
P.O. Box 438
Taylorville, IL 62568





NOTE: In order to view PDF documents,you need a
copy of theAdobe Acrobat Reader software.